sign up to Attend clarkpowell's TECHNOLOGY EXPO - FUSION 2018
This year we will be at the:
Embassy Suites by Hilton
201 Harrison Oaks Blvd. Cary, NC 27513
Wednesday, July 18, 2018
9:00am to 3:00pm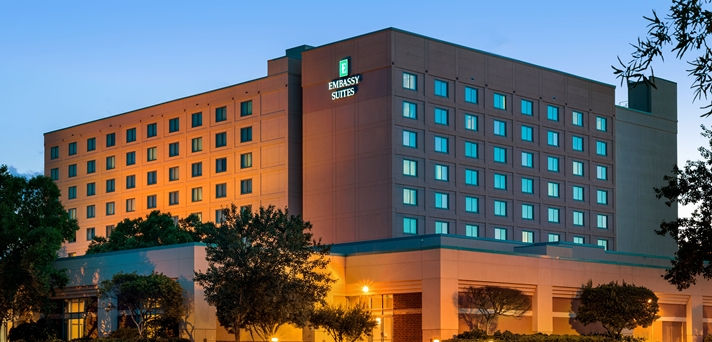 event info
Show
07/18/2018 9:00am - 3:00pm, Embassy Suites Conference Area
Learn the latest in audiovisual and broadcast technology from over 50+ vendors. Connect with industry experts, see live technology demos, get a personal consultation, and network with your peers. Plus there will be prizes and the ability to earn CTS RU credits!
The raffle grand prize is a Sharp 80" TV!

There is no charge to attend, lunch is provided, and there is free parking!
Seminars
There will be seminars throughout the day with staggered start times. Increase your knowledge while attending seminars by these industry leaders:
Extron
"Extron Media Streaming Technologies, Applications and Products"
Media streaming applications are growing significantly as the AV industry continues to innovate. Streaming can enhance AV system capabilities by extending audiovisual communication beyond your room to regional, national, or even global destinations. Streaming technologies also provide the ability to record and archive important AV presentations. Extron offers a mature and broad range of media streaming products that support diverse applications. Additionally, Extron's in-depth training programs, system design and support provide an essential element to success in this evolving technology space. Demonstrations will be provided.


ClarkPowell
"Video over Ethernet: It's Here and It's Cool"
IP Video is here, the next big leap in video technology. But it's more than just streaming video from point to point over Ethernet. NDI (Network Device Interface) makes cameras, recorders, editors, computers, and other devices accessible, and in some cases, controllable over a basic network. And every video device on an NDI network can be a source, or destination, or both to every other device on the network. This seminar discusses the basics of IP Video and includes a demonstration of NDI technology. We'll also talk about video production in the age of IP Video and discuss how this new tech can enhance existing video production infrastructures.


Kramer
"The Magic of Kramer's Wireless Presentation and Collaboration Platform: VIA"
In today's classrooms and conference rooms, wireless presentation and collaboration is a must have tool to increase engagement and efficiency. However, the functionality requirements, size, and content being shared in these spaces can be vastly different. Therefore, a complete family of enterprise level wireless presentation and collaboration tools is required. Sign up for this session to learn why Kramer's VIA is dominating the wireless presentation and collaboration market.


NEC
"Orchestrating a Brighter World"
As the digital space of your industry becomes more sophisticated, available projector technology needs to become more sophisticated too. NEC will cover the basics and best practice of laser projection. Learn how your bottom line can benefit from the advantages of Laser Light Source technology.


Biamp (1.5 CTS RU credits)
In an industry that is constantly evolving, learn more about the transition from HDBaseT® to Network Based Video Systems with Biamp. During this seminar we will look at what needs to be considered on the performance and networking side when you consider moving AV onto the network. The seminar will not only touch on Biamp's product line, but how other manufacturers are working with IGMP. Biamp is the world's leader in networked Audio and Video Systems.


Crestron
Crestron's DigitalMedia is the most complete platform to transmit and distribute audio/video. Learn about the only secure 4K60:4:4:4 and HDR Network AV solution, the DM NVX. Infinitely scalable technology offers a cost-effective solution for larger installations; integrates seamlessly with DM HDBaseT®, 4K60 fiber, and H.264 streaming products to deliver hybrid distribution solutions. Patent pending Crestron technology built into the DM NVX Series simultaneously encodes/decodes and scales, eliminating any latency incurred in transmitting video over the network.


Sony
"Sony Pro BRAVIA Displays/Digital Signage"
Deliver your message easily and beautifully with Sony's BRAVIA 4K Professional Displays. You can integrate, manage and maintain your systems with eye-catching signage and meeting room solutions.


Polycom
Join this session to learn how Polycom's solutions enable face-to-face collaboration and how the solutions integrate with ecosystem partners including Microsoft, Zoom, and BlueJeans. This session will also focus on: Plantronics acquisition of Polycom, the Polycom Ecosystem Update, and Polycom Trio—the continued evolution and modular approach to the room.


Panasonic
Bring content to life with Panasonic's high-performance projection technology. We will review LCD laser vs DLP laser technology and touch on the latest trends in the Display Market. Learn how Panasonic's projector portfolio offers solutions up to 30,000 lumens for many environments.


Draper
"When to Project in a Monitor World"
Review real world applications showing when projection is a good idea and when monitors/video walls are a better fit. Learn what you need to be aware of when planning for projection versus flat panel displays and or video wall installations.


Sony
"Sony's Vision Exchange"
A totally immersive collaboration system that is a dynamic and flexible active learning solution with video conferencing and separate streaming recording. Encourage discussion with simple work flow, easy drag & drop. All contained in one unit, with a wireless connection.


Sound Control
Cables got you all tied up? Let's change that! Join Sound Control Technologies to learn the latest camera and mounting solutions for Cisco, Polycom and USB delivering power, control, video, IR and Audio over a single category cable up to 300'.
Vendors
Learn about the latest in audiovisual and broadcast technologies from these manufacturers:
Anton Bauer
Audix
Avid
Barco
Biamp
Broadcast Pix
C2G (Cables To Go)
Cambridge Sound Management
Chief
Christie
Crestron
Da-Lite
Draper
Epson
EvertzAV
Exact Furniture
Extron
Fujifilm
Genelec
Griffith Sales Associates
HWP
IHSE USA
Ikegami
Imagine Communications
JVC
Keywest Technology
Kramer Electronics
LAB GRUPPEN
Legrand AVD
Leightronix
LG Electronics
LibertyAV
Listen Technologies
Manios Digital
Marshall Furniture
Midas
Miller's Presentation Furniture
NEC
Panacast
Panasonic
Panasonic Broadcast
Planar
Polycom
Sachtler
Samsung
Secom
Sennheiser
Sony
Sound Control Technologies
Spectra Logic
Stampede
Symetrix
Synnex
Tannoy
Tightrope Media Systems
Vaddio
Winsted
Wolfvision