save the date to Attend clarkpowell's TECHNOLOGY EXPO - FUSION 2019
Join Us!
Hilton Charlotte University Place
8629 J M Keynes Drive
Charlotte, NC 28262
Wednesday, October 9, 2019
9:00am to 3:00pm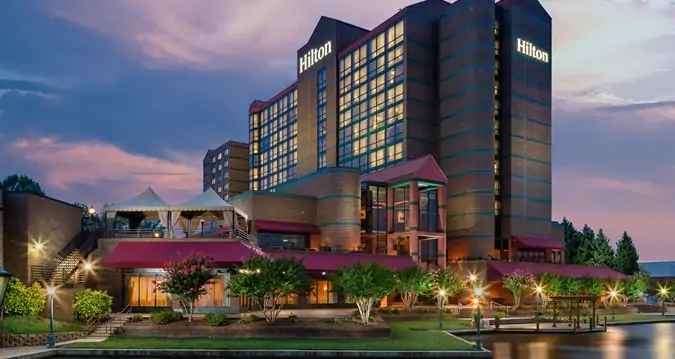 Hilton Charlotte University Place
event info
Show
10/09/2019 9:00am - 3:00pm
Learn the latest in audiovisual and broadcast technology, connect with industry experts, see live technology demos, get a personal consultation, and network with your peers.
There is no charge to attend, lunch is provided, and there is free parking. Plus there will be raffle prizes awarded, including a raffle grand prize!
Seminars
Plan to attend the numerous seminars that will be offered throughout the day at staggered start times.
Biamp: Sound Affects in Multiple Architectural Spaces
Learn how to integrate the science of sound when designing architectural spaces. We will delve into the four effects sound has on people and the financial impacts on proper sound systems. Learn how to identify your client's soundscape and define the outcomes and how the right environment enhances the experience.


Crestron: DM NVX with New Pixel-Perfect Processing
Learn about Pixel Perfect Processing, a technology that is only available with the DM NVX, that delivers flawless video and incredible quality and clarity for presentation images.


Draper: When to project in a monitor world
With so many choices these days of ways to display a computer/video image in your meeting spaces—Monitors, Video Walls, Projector Systems—how do you decide which is the best solution for your space? We will cover real world examples of different types of display solutions in different environments to help determine the best fit for your application. How big an image is too big? How small is too small?


Extron: AV Streaming Over IP for Professional Systems
In the seminar, we'll introduce Extron's new "Pro AV Over IP solution, "NAV" that provides AV distribution and matrix switching via a network. Utilizing Extron's patented PURE3® codec, NAV delivers visually lossless, ultra-low latency, 4K/60@4:4:4 video, pro audio, and USB over Ethernet networks at low bit rates. With its groundbreaking performance, NAV won a Sound and Video Contractor magazine award for "Best of Show at NAB 2019". We will also discuss the award winning "SMP" series streaming media processors. SMP's provide high quality standards-based H.264 / MPEG-4 AVC streams over networks. They also provide simultaneous MP4 recording for distribution such as "Video on Demand". We will also discuss network implementation strategies and applications.


Kramer: The Simple Wired and Wireless Classroom
To create effective and efficient learning environments, complex technology systems are NOT required. Kramer is the leading manufacturer in creating simple and easy to use wired and wireless presentation environments suited for the teacher and student. Please join us to see our simple classroom technology in action.


Panasonic: Best Way to Display
Projectors vs Flat Panels vs Direct View LED Video Walls. Come learn the elements you must know to pick the right technology. We will discuss environment, image, installation, service and the cost of the different technologies. Attend and receive an AVIXA CTS RU credit.


Tightrope: Future Proofing Your Local Cable Channel
With declining cable subscriptions and franchise fees, a hostile FCC, and the growth of alternative distribution technologies, learn how you can take your channel online and OTT in High Definition with Apple TV and Roku while at the same time offering a more complete service to your community.


Vaddio: USB Conferencing: The critical components making soft client conferencing work
This session will focus on the unique and challenging ways soft client conferencing has impacted conference rooms and huddle spaces. A focus on USB solutions and supporting equipment will be featured along with a discussion on the types, formats, and issues caused by USB devices. Participants will leave the session with concrete information which will help their soft client experiences be more successful.


ClarkPowell: NDI-Video Over IP
NDI continues has become a stable 'go-to' standard for Video Over IP. But it's more than just streaming video from point to point over Ethernet. NDI (Network Device Interface) makes cameras, recorders, editors, computers, and other devices accessible, and in some cases, controllable over a basic network. And every video device on an NDI network can be a source, or destination, or both to every other device on the network. This seminar discusses the basics of IP Video and includes a demonstration of NDI technology. We'll also talk about video production in the age of IP Video and discuss how this new tech can enhance existing video production infrastructures.
Vendors
Learn about the latest in audiovisual and broadcast technologies from these audiovisual and broadcast manufacturers: